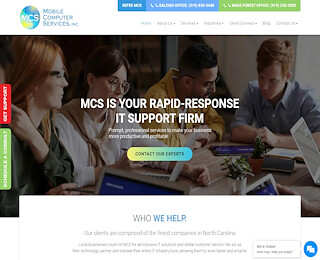 Mobile Computer Services is an IT managed services provider in Raleigh, NC. Mobile Computer Services is a practical choice for organizations that need the support of an external IT company in Raleigh. Our IT specialists are some of the best in NC, and arguably, some of the best in the nation, which means some of the best in the world! Our team provides guidance and support at every stage of an organization's life. Whether you need help selecting the right hardware and software solution, or you need help troubleshooting and fixing a problem, Mobile Computer Services offers both on-location and remote-location IT services.
What Our IT Company Does for Raleigh Organizations
Mobile Computer Services offers technical assistance with computer systems, online (cloud) systems, networking, software applications, and electronic hardware. Some companies have one or two (or three or four) IT guys or gals in-house to deal with their IT needs as they arise. However, there are at least two major advantages that such companies would gain by outsourcing their IT needs to an IT company like Mobile Computer Services.
Advantage #1: Cost Savings
Rather than hiring an individual or a full team to attend to your IT needs, you could hire Mobile Computer Services, and we can work for you only when you need it. For less than what you pay just a single employee for their monthly salary, our IT company can manage and monitor your IT round-the-clock, 24/7/365.
Advantage #2: Access to a Team of Professionals for the Price of One Full-Time Employee
Different IT specialists have their own expertise. Likewise, when you hire Mobile Computer Services, we have a full team of specialists with their own individual talents. Collectively, we can far exceed what a single or even multiple IT employees could do for your company.
Save Money by Renting or Leasing Your Technology from an IT Company
Mobile Computer Services has hardware and software solutions for companies that are available for rent or for lease. These solutions are very affordable for new startups with limited capital. Rather than purchasing all new hardware and software, training your employees to use it, and struggling with the headaches that stem from implementing new systems, you can just rent our technology for a nominal monthly fee!
Further, you don't have to be a small company startup to rent or lease our technology. Even medium-sized and large companies can benefit from our equipment leasing services. How so? Today, new technology is released into the market every year, which means that the technology of today will become obsolete in just a couple of years. Then, your company will have to upgrade again and go through the process of training and assimilating your employees to a new system. When you rent or lease your IT equipment from Mobile Computer Services, you won't have this problem. You'll be able to upgrade as needed without buying all-new equipment and software. When you need an IT company in Raleigh, only Mobile Computer Services is your safe bet!
It Company Raleigh